Takuya Kimura, aka Kimura Takuya, is always talked about how cool he was when he was young.
The level of good looks that even today's younger generation can appreciate is thrilling to see again and again.
We've collected many images of Takuya Kimura from his debut, his short hair days when he was full of sex appeal, and his long hair days when men all over the country were longing for him!
And people are also talking about how when he was younger, Takuya Kimura looked like that next generation idol group member who's getting his big break!
Kimitaku when he debuted as SMAP
SMAP was formed in 1988 and debuted in 1991, when Takuya Kimura was 18 years old.
Takuya Kimura had been appearing in TV dramas and other productions shortly before his debut.
Although he was still very young, he had the presence of a beautiful boy who was not just a boy at that time.
We collected images of Takuya Kimura at the time of his debut.
I'm leaking sex appeal! Kim Tak with short hair is handsome.
When we think of Takuya Kimura in his younger days, his long, long hair has a big impact.
There was a time in 1993, when Takuya Kimura was about 20 years old at the time, when he had short hair.
It is shockingly cool enough to be accepted today, even though it was 30 years ago.
Kim Tak's heyday was Longhair!
And Takuya Kimura's long hair symbolizes his younger days.
In the 1990s, Takuya Kimura sparked a boom in long hair, and the streets were filled with long-haired men.
If it's this cool, you'll want to copy it!
Unfortunately, even if you copy his hair, you can't be Kim Tak...
Kimutaku and Meguro Ren of Snow Man look alike!
So far we have seen images of Takuya Kimura in his younger days.
Then a thought occurred to me...
Does he look like Ren Meguro of Snow Man, a junior member of the Johnny's Office?
By the way, the image above is Meguro Ren-kun.
Takuya Kimura and Ren Meguro, side by side.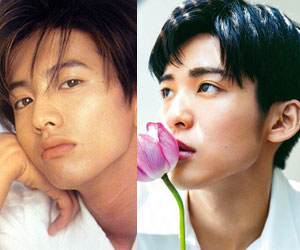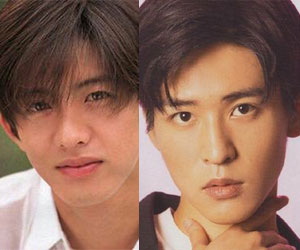 I think Takuya Kimura looks a lot like Ren Meguro, especially when he had short hair and a strong sense of orthodoxy!
Many people seem to think so.
Kimutaku and Meme look alike, don't they? 🤔Me is really handsome 🤔Me is really handsome 👏. pic.twitter.com/x51btyHzjY

- a.y.a (@_pooh_aya) February 23, 2020
Meguro Ren and Takuya Kimura.........Memetaku and Kimutaku............ I don't know what's going on anymore ...... similar ............ recommend Meguro Ren as Kimutaku of 2021 ...... ......... pic.twitter.com/nSeMS32WvQ

- Hanamaru (@iam_87maru) September 30, 2019
Good looking men are timeless!