The five members from the music audition program "PRODUCE 101 JAPAN (Nippu/Pudu Japan)" that produced JO1 have formed a new unit!
The name of the five-member unit that started as the New Unit Project has not yet been decided.
What kind of group and what kind of members are they?
We've compiled profiles of the five, their curious heights, ages, and popularity order!
New Unit Project will make its debut!
These five were chosen to make their debut.
Although the five members were unsuccessful in the Nippu and did not make their debut as members of JO1, they were well supported by many fans for their visual and performance abilities.
Aoki Seibo
Ryoto Furuya
Kohki Nishio
Takehiro Okada
Toshi Takano
With skilled members in rap, breakdance, and vocals, it looks like there will be plenty to see!
This new unit has announced that the group will be changing and expanding in a variety of ways, and in 2020 there will be a seasonal rollout with summer, fall, and winter, but what the heck, it's
It may mean that there is a possibility of additional members.
What is the name of the unit?
This five-member unit started as New Unit Project.
The name of the unit has not yet been decided.
The name of the unit was chosen by the fans, as they wanted to "walk together with the fans"!
Unit names were sought until the end of April.
The unit name will be announced on Friday, May 29, from 9:00 p.m. at the 1st showcase "THE REUNION" at Shibuya O-EAST, with no audience, and will be broadcast live on the Internet!
Where's your office?
The office of this five-member boy's unit has not been disclosed at this time.
The official website seems to be operated by Ticket Pia.
Will the office also be announced at the 1st show? So many mysteries, so much anticipation!

Profiles of the 5 members
The following is a summary of the profiles and characteristics of each of the five individuals.
The atmosphere has changed since her appearance in Pudu Japan, and she is now completely in the mood of a K-pop idol. The change in style is also noteworthy.
Profile of Seinami Aoki
Masanami Aoki
Name: Aonami
Birthday: August 4, 2001
Age: 21 years old
Height: 170cm
Birthplace: Tokyo, Japan
Blood type: A
Hobbies: Human beat box, cooking
Specialties: break dancing, illustration
Seinami Aoki is adorable with his innocent face and squishy smile! He is a popular member of the group.
Bubby baby face and amazing physical abilities!
Seinami Aoki specializes in burly break dancing and gravity-defying acrobatics.
練習動画〜🙄🙄🙄
♪
♪
♪
♪
♪
♪
♪# Dance Video # Seiho Aoki # Aonami # Dance # Dancer # Dance Club #starriot #bboylilbean #followme # Follow Me #댄스 #팔로우 # #팔로우미 pic.twitter.com/qhGopgPYGv

- 🌊Aoki Seiha🌊 (@Msnm84) April 14, 2020
Seinami Aoki graduated from the design department of an industrial high school and is good at illustration.
I'm providing a newly drawn illustration for the unit's inaugural T-shirt!
Profile of Ryoto Furuya
Akihito Furuya
Name: Aki-kun
Birthday: April 4, 2001
Age: 21 years old
Height: 173cm
Birthplace: Tokyo, Japan
Blood type: ? type
Hobbies: Dancing, exercise, movies
Special skills: POP dance, basketball
Ryoto Furuya has cool and cool eyes.
Her personality may seem cool, but she expresses her emotions honestly and is cute in her words and actions.
In Nippu, if you are chosen as one of the last 11I'll run 101 kilometers to see you."saidThat's a lot of work, isn't it?The company declared its commitment to the
Ryoto Furuya is popular for being cute in that way too....
The unique word choice of Ryoto Furuya is also noteworthy.
In the debut of the New Unit ProjectWe're going to get everyone excited!"He commented.
Ukiyoke and !!!! Too cute!!! weeping
As for Ryoto Furuya's performance, let's see.The dance is sexy with a good use of eye contact.
I can't believe she can be this sexy at her age, she's going to be a force to be reckoned with!
Kohki Nishio Profile
Kohki Nishio
Birthday: July 31, 1999
Age: 23 years old
Height: 173cm
Birthplace: Hokkaido, Japan
Blood type: AB
Hobbies: Listening to music, watching movies
Special skills: piano, soccer
Kohki Nishio has been recognized for his visual quality since his days in Puju Japan.
Kohki Nishio's unprocessed, purikura-quality appearance makes him a perfect candidate for theWalking PurikuraIt's also known as the "The
Kohki Nishio's good qualities are not limited to his face, of course.
Although he is a cute and handsome guy, Kohki Nishio's voice is surprisingly low.
His ability to sing with a low voice is also highly appreciated.
Kohki Nishio is a motherly and kind character who wants to make his single mother happy.
howeverIt's interesting to see how people are always opening their mouths because they can't breathe through their noses.worthless or dilapidated characterIt is also loved as a
Takehiro Okada Profile
Takehiro Okada
Birthday: December 3, 1999
Age: 23 years old
Height: 175cm
Birthplace: Aichi Prefecture
Blood type: A
Hobbies: Dancing, kendo, surfing, skateboarding, kendama, beat box
Specialties: break dancing, human beat box
The birth of an idol with glasses! Takehiro Okada-kun actually has bad eyesight.
Takehiro Okada is popular for looking good in glasses, but his face without glasses is cute with dull eyes.
Takehiro Okada won the hearts of viewers with his special breakdance performance at Nippu, but unfortunately, he was only able to participate in the camp until halfway through due to food poisoning.
Takehiro Okada, who is well known for his lack of luck, is very funny - (I like him).
I feel the obsession in the way they incorporate breakdancing, and I really like the way they take their glasses off and put them back on again 😂😂.
And your singing voice is not good! 👏# Takehiro Okada#PRODUCE101JAPAN # day p pic.twitter.com/TFxyEPc8hL

- ❁ (@tra8d) October 20, 2019
Due to such bad luck, Takehiro Okada was unable to leave many images and videos in Pudu Japan.
They say that was a big factor in my being eliminated, but I'm so glad I got lucky and got to debut in a different way!
Profile of Toshi Takano
Akira Takano
Birthday: June 20, 2000
Age: 22 years old
Height: 176cm
Birthplace: Tokyo, Japan
Blood type: A
Hobbies: Reading books, dancing (2 years of jazz, 1 year of hip-hop), running (twice a week), watching anime (training to be an otaku), watching live shows (mainly idols)
Skills: violin, watching live DVDs
Takano Kei looks like Korean actor Idong Wook in Pudu Japan! He is a handsome man who has made a lot of noise.
I put them side by side a bit. They look so similar!
The one on the left is Takano Kei, and the one on the right is Idongwuk, just in case you are wondering.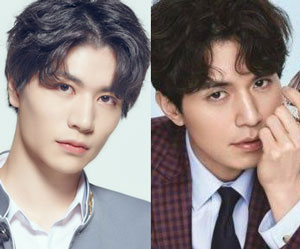 In addition to Mr. Lee Dong-wook, some say that Toshi Takano looks like Kei Tanaka and Haruma Miura.
In short.I like your face very much.That's what I mean: !!!!!
Not only does he have a well-constructed face, but the best thing about Toshi Takano is his smile.
At first glance, you may think he is a cool type, but he is always smiling.
The energetic and hardworking dancers are a healing force.
Despite having such a shining visual, Toshi Takano has not received much attention in Pudu.
Please show more of Takano Kei !!!!Many fans said.
This is sure to be even more popular after its debut.
This is a very minor detail, but when Takano Kei joined Nippu, he was "Takano Kei" at a ladder high school, but from New Unit Project, he is "Takano Kei" at a normal high school.

Summary of members in order of age
Here are the new unit members, sorted by age!
The age is always updated to the latest.
| | |
| --- | --- |
| Kohki Nishio | 23 years old |
| Takehiro Okada | 23 years old |
| Toshi Takano | 22 years old |
| Ryoto Furuya | 21 years old |
| Aoki Seibo | 21 years old |
最年長は西尾航暉くん 23歳、
最年少マンネは青木聖波くん21歳ですね。
Summary of members in order of height
Members listed in order of height!
All members of the group are over 170cm tall.
| | |
| --- | --- |
| Toshi Takano | 176cm |
| Takehiro Okada | 175cm |
| Kohki Nishio | 173cm |
| Ryoto Furuya | 173cm |
| Aoki Seibo | 170cm |
What is the popularity order of the members?
Although the five members have only just been formed, based on their ranking in Pudu and the reactions of the official New Unit Project Twitter feed, the overall popularity ranking seems to be this.
Aoki Seibo
Ryoto Furuya
Takehiro Okada
Kohki Nishio
Toshi Takano
summary
New unit with 5 high-skilled members from Nippu!
Highlights include breakdancing, vocals, rapping, and more!
Seinami Aoki:.
Baby Face Weightless Dancer
Akito Furuya:.
Gap between woo-woo cute and sexy dance
Kohki Nishio
Great character development! Walking pre-crazy, beloved clunker.
Takehiro Okada.
Turning bad luck into a springboard! Break dancer who looks good in glasses
Satoshi Takano:.
Always smiling and working hard! Healing handsome man