Ren Meguro, a member of the popular idol group Snow Man, is really cool!
However, for those who have known him since his junior days
I don't remember Ren Meguro being this handsome."
The changes are so drastic.
This section summarizes Meguro Ren-kun's visual changes and the suspicions of plastic surgery that are so common among celebrities.
Snow Man's visual director! Current Meguro Ren
Ren Meguro is a beautiful all-around handsome man from all angles, standing at 184 cm tall and also a model.
First, please take a closer look at Ren Meguro, whose stunning visuals are irresistible and have made many women fall in love with him.
Ren Meguro's trademark is his techno cut.
I think this is a difficult haircut that suits Meguro Ren-kun only because he is a lot of fun.
The attention to Ren Meguro's appearance is so intense that he is trending just by changing his hairstyle to short hair because of the drama.
Meguro Ren's short black hair...... no matter how you look at it, you're the idol of the school and the ace of the soccer team, a senior who's a third-year student who's always wanted to be a senior, right? pic.twitter.com/QIFFtFK2pn

- Nocchi (@snm_3131) August 15, 2020
Personally, I would like to rave about Meguro Ren with bangs glasses.
Was he ugly as a junior? Old photos of Ren Meguro
The image above was just taken a bit by surprise, sweat.
During his Johnny's Jr. days, long before he joined Snow Man, Ren Meguro was rather unremarkable.
Now is the time!" There was a time when it was said that I looked like Mr. Osamu Hayashi, the famous teacher of the phrase "I am the best!
I don't think Mr. Osamu Hayashi's face is bad, but he is from a different generation than Ren Meguro, and, hey, you know?
Is it the droopy eyes or the hair?
It is hard to imagine nowadays that Ren Meguro had his face teased, isn't it?
Meguro Ren, who is suspected of having undergone plastic surgery to become so handsome.
Compared to his old images, Ren Meguro has grown so handsome that he is naturally suspected of plastic surgery.
Especially suspect are Meguro Ren-kun's eyes. (Only his eyes...)
Let's compare.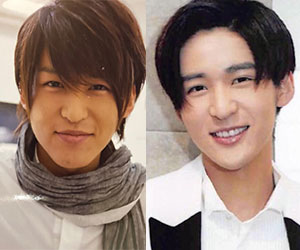 I think Ren Meguro-kun in his junior years is also usually good-looking, but I think the double width of his eyes, in particular, is wider now.
The face is still there, but the jawline is different.
It is common for eyelids to clear and eyes to become larger as people grow older, so I can't say that it is plastic surgery, but Ren Meguro definitely looks different now than he did in the past.
Meguro Ren himself denies plastic surgery.
Ren Meguro himself denied the plastic surgery allegations in an official statement.
That was at the noon performance of "The Boys" on September 18, 2019.
There is a scene in which Ren Meguro-kun reads a letter in which he announces, "I didn't have plastic surgery.
The Boys 9/18 LUNCH】Letter Meguro Ren
I am sure that these 15 of us will catch our dreams.

PS. I don't have plastic surgery. I was walking around town the other day and where did you get your plastic surgery! I was approached by a person who said, "I'm sorry, I'm sorry. Well, I'll take that as a compliment that I've become that much better looking."

Backsliding on the last suspicion of plastic surgery.

- Me♡Tan (@8ra_4U3939) September 18, 2019
I am surprised that some people are rude enough to grab a walking celebrity and ask them if they have had plastic surgery.
Meguro Ren-kun, you are so handsome, turning it into a funny story!
As Ren Meguro himself says, the fact that plastic surgery is suspected also means that he has become so cool.
Meguro Ren denies plastic surgery allegations.
If her face was that beautiful, it might be called plastic surgery.
That's how perfect Meguro Ren's face was 👏.

- Pichi (@Pichi_Lucky) September 18, 2019
Meguro Ren is a plastic surgery! I've been fishing for old pictures of you.
I lost half of my face.
I had half of the face of the current Meguro Ren (he still has this face).
Oh, I knew this wasn't plastic surgery 🤔.
If it was plastic surgery, you wouldn't know any better.

- Chikuwa Man👼 (@merochikuwa) September 18, 2019
Summary of Meguro Ren's face has changed.
The overwhelmingly visual Meguro Ren, also known as a facial national treasure.
Past that he was not as handsome in his junior years as he is now.
The changes are so drastic that plastic surgery is suspected.
Meguro Ren himself denies any plastic surgery.
https://irohanihohoho.com/meme-rau/
https://irohanihohoho.com/meguro-shorthair/
https://irohanihohoho.com/snowman-past/