Now a popular artist worldwide.BTS."The following is a list of the most common problems with the
With the rise in popularity of BTS, anti-Japanese allegations and flame wars have also become a hot topic.
In this issue, we will provide a detailed look at BTS's past flame wars.
What is BTS (Bulletproof Youth Team)?
Korea's most popular boy groupBTS."The following is a list of the most common problems with the
Also known as "Bulletproof Boys" or "Bantan".
He debuted in 2013 with "NO MORE DREAM" and became the first Asian artist to achieve the feat of taking the number one spot on the Billboard 200 with the 2018 release of his album "Love Yourself 轉 `Tear'".
Since that time, they have come to be known as the "BTS of the world" and have gained worldwide popularity beyond the boundaries of K-POP.
Members are.RM (Rap Monster), JIN, SUGA, J-HOPE, JIMIN, V, and JUNG KOOKIt is.
In addition to the high performance level that only K-pop artists can achieve, the visuals and unique personalities of the members are also the reason for their popularity.
What is the BTS flame war?
BTS has a"We will prevent social prejudice and oppression directed at teens and 20-somethings, and we will defend our music."The concept is that
Their credo is to make the music they want to make, without being bound by the bonds of adult society.
Their songs and ideas were shared by a growing number of fans around the world, especially among the younger generation.
However, BTS's certain "free" speech and behavior has led to several flame wars in the past.
BTS flame war (1) Anti-Japanese allegations
BTS is very popular in Japan, but in the past, they have often come under fire for their alleged anti-Japanese behavior. In the past, however, BTS has often caused inflammatory incidents due to their alleged anti-Japanese behavior.
anti-Japanese statement
First, here is what BTS leader RM has to say about Japan.
RM made its debut on August 15, 2013, shortly after its debut, on its official Twitter page.Today is Kwangbokjeol! There is no future for a people who have forgotten their history."He said.
August 15 is the anniversary of the end of the war in Japan, but in Korea it is designated as "Kwangbokjeol," a holiday marking the liberation of the country from Japanese colonial rule.
furthermoreThe phrase "a people who have forgotten their history" is a well-known term used by some of the most anti-Japanese people in Korea.goodAre you anti-Japanese?"Rumors spread.
To this day, we do not know what RM's intentions were in making the above statement.The following is a list of the most common problems with the
However, RM is very smart and has excellent situational judgment, which is why he received a lot of criticism for making the above statement on Twitter.
Of course, there are those who say that we are overreacting.
I don't know what kind of feelings you are expressing, but I would be careful what you say because of its influence.
Wearing A-bomb T-shirts
Member Jimin, who is a member of theThe case of the atomic bomb T-shirt with a design of the mushroom cloud and patriotic sentiment generated when the atomic bomb was dropped caused a firestorm.The following is a list of the most common problems with the
This issue was covered daily in the media and became a topic of conversation not only in Japan but also overseas, as "Music Station," where he was scheduled to appear, cancelled his appearance the day before.
Furthermore, Jimin was accused of "wearing the A-bomb T-shirt intentionally" after it was revealed that he had worn it twice.
But Zimin said of the A-bomb T-shirts.'It was a gift from a fan, and I wore it without thinking.'He stated.
At a performance at the Tokyo Dome after the fiasco, JiminHe tearfully apologized in Japanese, saying, "I have caused concern not only in Japan but also to people around the world."The following is a list of the most common problems with the
BTS's agency also issued an official apology, bringing the matter to a close.
Nevertheless, there was no mention of the key question, "Why was he wearing the A-bomb T-shirt?" which led to various opinions among fans.
This is a very difficult issue because each country has different values in terms of how they view history and education.
However, at the time Jimin wore the A-bomb T-shirt, BTS had already begun to attract worldwide attention to the extent that they were holding a world tour, so it can be said that Jimin also needed to be considered in many ways.
However, Jimin is a Japanophile who, along with member Jong-Guk, privately tours Tokyo Disneyland and other places in Tokyo.It is hard to believe that he was wearing the T-shirt because of his anti-Japanese intentions.It is.
As he says, it could be that he was simply wearing a gift from a fan.

Wearing an A-bomb blouson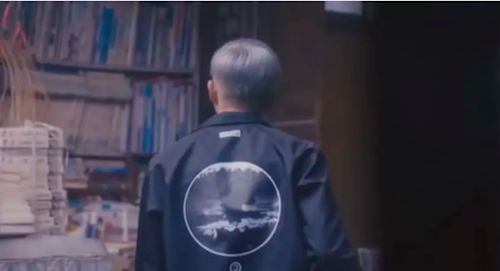 The leader, RM, wore a blouson with an atomic bomb design in the music video for the song "BTS HYYH onstage VCR ALL MEMBERS".
It was clearly designed with an atomic bomb, and some Japanese fans had mixed feelings about it.
The following are some harsh opinions on this RM matter.
There is some information that RM ordered it himself, but it is not certain if this is true.

But even if they just happened to wear them in fashion, it would not be a good feeling from a Japanese point of view.

After all, he is a world-class artist, so he needs to be careful about what he wears.
About "Marymond
V, who is also a visual member of BTS, posted a photo on Twitter of himself wearing a brand of clothing called "Marymond," which led to rumors that he was anti-Japanese. This led to rumors that he might be anti-Japanese.
this (something or someone close to the speaker (including the speaker), or ideas expressed by the speaker)Marymond.The brand calledLifestyle brand launched by young people to support former comfort womenClothing and sundries are sold at the
Since other members of BTS also use "Marymond" sundries, some fans were curious.
But if you look into this brand, you'll find thatIt is not an anti-Japanese company, but a "social enterprise that raises charity for all sexual violence issuesAs part of this effort, we learned that they support former comfort women.
Rather, it is a good brand with the idea of eliminating sexism and sexual violence, which is not a problem at all.
Since the designs are cute and are also available in Japan, many people use the brand simply because they like it as a brand.
V himself.It was not intended as an anti-Japanese message."and there does not seem to be a deeper meaning to this.
Covering Anti-Japanese Songs
BTS sang an anti-Japanese song "Dokdo is My Territory" on a TV program. It was said to be.
This was a punishment game in a program broadcast in September 2013, in which the contestants were asked to dress up as women and sing "Dokdo is My Territory".
Dokdo is My Territory" is a song so patriotic that even a small child can sing it.It is.
At the same time, it is also known as a brainwashing song, a song designed to raise the territorial awareness of Koreans.
Although this story alone might be considered anti-Japanese, it could be considered that BTS, in the position of having just debuted, had no choice but to not do this project.
It is highly likely that the song was sung to gain popularity in Korea first.
Created own music with anti-Japanese lyrics
Member Jin performed a fishing song called "Super Tuna" for his birthday.
At that time, attention was focused on the'Where are my fish? Where are they in the East Sea and West Sea!"The lyrics are.
The expression "East Sea," which by international standards correctly refers to the Sea of Japan, has come under fire for being anti-Japanese.
However, there were some who defended the gin in this regard.
Certainly, one could view this as not a problem if the song was created by Jin, who is Korean.
Jin is said to be pacifistic and thoughtful, so it is hard to imagine him daring to start a fire.
On the other hand, the member V mentioned the Japanese actress Satomi Ishihara as his favorite type of woman.Jin's brother collaborates with Jin in the Japanese-style seiro-steamed restaurant Oshinos! Seiro Steaming".
Since many BTS members are said to like Japan and Jin is also said to like Japan, this flare-up does not seem to have a particularly deep meaning.
BTS flame war (2) Leader RM's words and actions
RM, which has received various criticism for the anti-Japanese allegations I mentioned earlier, has actually caused a worldwide firestorm in the past.
swastika (45-degree clockwise swastika used by the Nazi party)
A 2014 photogravure of a smiling RM in a Korean fashion magazine.
However, the design of the hat worn by RM there drew criticism.
His hat had the tabooed Harkenkreuz on it.The first is the
The Hakenkreuz is a key cross associated with Nazi Germany, but this symbol is now not allowed to be used in public for any reason as it is associated with the Nazis.
Opinions about RM were mixed, as this hat was most likely not provided by RM himself.
However, because BTS is influential even among a generation that has never heard of war, many fans feel disappointed when they see such a firestorm.
Statement on the Korean War
RM at the U.S.-Korea relations awards ceremony in 2020.The incident sparked a firestorm when he said, "The history of hardship that both countries (the U.S. and South Korea) went through together during the Korean War."The following is a list of the most common problems with the
On Chinese social networking sites.'BTS insulted China and ignored Chinese sacrifices'Criticisms of BTS were so intense that Korean companies using BTS as an advertising model for the Chinese market had to remove their advertisements.
In the Korean War, the U.S. supported South Korea and China and the former Soviet Union supported North Korea in the past.
Therefore, some saw RM's statement as pleasant for China, the former Soviet Union, and North Korea, which were enemies.
However, there was no criticism of RM's comments in Korea, and there were also opinions defending RM on social networking sites.
Historical background is a very sensitive issue, as different countries have different ideas.
As we did earlier, we know that RM is a very clever person and has fans in many countries.
Therefore, it is believed that the statement was never made with malicious intent.
BTS Flame Riots (3) What Jin said and did
As the oldest member of BTS, Jin is known for his personality, always thinking of his fans.
However, despite winning nine awards at the 2021 Mnet Asia Music Awards (MAMA), including four major categories, the comments Jin made caused a firestorm.
Although BTS did not participate in the awards ceremony because they were on a long vacation, each member made a comment of appreciation on SNS immediately after receiving the award.
However, Zinn's comments were made some time after the award was given.I'm sorry, I've been asleep for 17 hours and just found out about the award."This was the case.
This MAMA was something that fans had worked hard to support, including voting, so when they saw Jin's comments, theyThe gin has changed."Many were shocked, and Jin's attitude at this time resulted in a lot of criticism, saying that he had become "tengu".
Of course, since BTS is active around the world, some people would like them to take a well-deserved break when they can.
However, it may be that Jin's reaction was cold because he has been thinking about the fans and the fans have been supporting BTS to meet their expectations so far.
On the other hand, Jin revealed in 2020 that he was in counseling for "burnout," so it is true that he is very tired.
As a fan, I may have many feelings about Jin, but I just hope that he is healthy and active.
BTS flame war (4) Shirt worn by J-HOPE
In December 2021, BTS opened Instagram with a personal account.
Shortly after its opening, J-HOPE received a lot of criticism for posting a single photo.
The photo was black and white and showed J-HOPE wearing a shirt with a contraceptive design.
Fans who saw this photo said.It's dirty.""Why did they choose this T-shirt when they have so many young fans?"The opinions were concentrated in the following areas.
However, it turns out that the T-shirt was actually designed to "encourage correct contraception.
Then the situation changed drastically.It was "wonderful," and "a nice gesture, typical of J-HOPE."Tributes were paid to J-HOPEThe following is a list of the most common problems with the
J-HOPE has previously worn T-shirts from the Korea Breast Cancer Awareness Campaign, so we are sending a message to society in a non-verbal way.
J-HOPE is very kind, diplomatic and cheerfulSince the company is known for its "I'm sorry" approach, it would not dare to cause a flame war that would cause grief to its fans.
BTS flame war (5) Discriminatory acts
It is hard to believe at first glance, but BTS has come under fire in the past for what was perceived as discriminatory behavior in the past.
Unauthorized photography at the Holocaust Memorial
BTS posted a photo taken in Berlin, Germany on January 12, 2015, on their official Twitter page.
But that picture.Turns out it was an unauthorized photo shoot at a Holocaust memorial.This led to a huge firestorm.
The Holocaust Memorial is a stone monument built to honor the Jewish victims of the massacre by the Nazi SS led by Hitler.
It is still inappropriate to have chosen it as the location for the photo shoot, even if you were praying there.
Of course, we cannot rule out that this fire was also started by a BTS member.
The relevant photos were removed soon after they were published, but since BTS sometimes speaks out on human rights and historical issues, I hope they will take an honest stand on these issues.
Wearing Nazi-style costumes
BTS was a guest performer at Korean singer Seo Tae-ji's 25th anniversary concert in 2017.
The black costumes they wore and the flags they carried were reminiscent of the Nazis, and they were strongly criticized by Jewish people and the rest of the world.The following is a list of the most common problems with the
This issue cannot be said to be an event caused solely by the will of the BTS members, and by no means does the BTS affirm Nazism.
However, the issue of the World War II Holocaust and other issues are also particularly sensitive, so as a fan, I would like you to remember that you are the focus of the entire world's attention and act accordingly.
BTS flame riots (6) Club-going during the period of self-restraint from going out
In 2020, coronas were spreading throughout the world, and strict measures were taken in many countries, including curfews and voluntary curfews.
In the midst of all this, BTS's youngest member, Jong-Guk, was found to have gone to Itaewon's taverns and clubs in April 2020, during the period of self-restraint from going out, causing a huge firestorm.The following is a list of the most common problems with the
Jong Guk was not out alone, but with four of his regular friends, SEVENTEEN's Min Kyu, NCT's Jae Hyun, and ASTRO's Cha Un Woo.
Of course, there would be no problem if it were not during the curfew period, but Jong-gu's behavior was still rash while many people were obeying the curfew request.
Later, his office also apologized and the furore was settled.
Jongguk, who usually leads a busy life, understands the need to take a break.
But because we are in the public eye, moderation is necessary.
Summary of BTS flame issues
As for the BTS flame war.While some of these were caused by BTS members, there are numerous others that cannot be blamed solely on the members!The following is a list of the most common problems with the
Furthermore, since there have been many incidents that have gone up in flames because the public perceives them in a different way than the individual members' thoughts, we cannot unilaterally assume that the members are to blame.
Of course, the members are free to think what they want, what clothes they wear, etc., but because BTS is active around the world, it is heartbreaking for fans to be the topic of conversation because of the flames.
I sincerely hope that BTS will be full of bright topics in the future.